The YouTube Channel Wins You've Been Looking For
Build Influence, Impact & Revenue With YouTube Video Optimisation
GET YOUR FREE CHANNEL REVIEW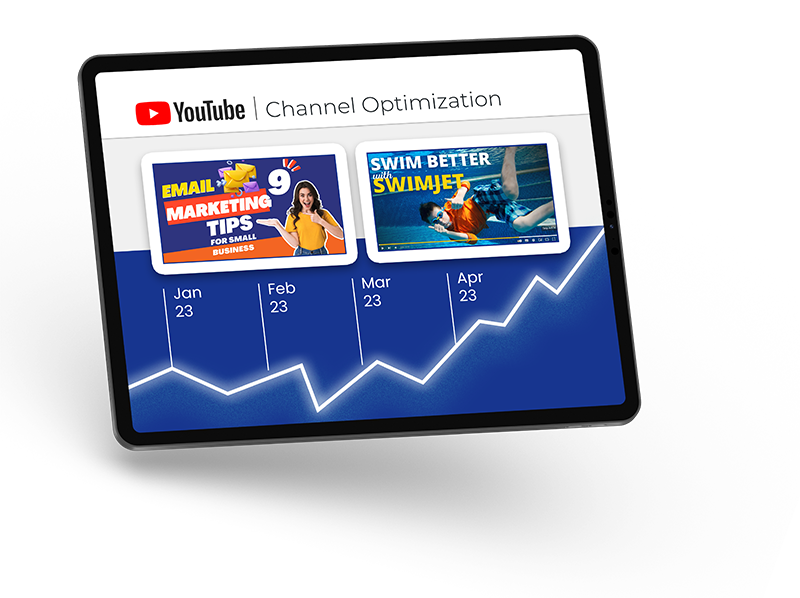 Grow & Scale Your Business Faster With YouTube Video
Grab your target audience and build credibility, quickly.
Many businesses and brands are still sleeping on the full power of YouTube, missing out on the incredible benefits of this ROI engine.
It's time to turn this into your key advantage: When you understand the right ways to leverage YouTube, you unlock greater visibility, authority, credibility and trust – essential ingredients for scaling your business.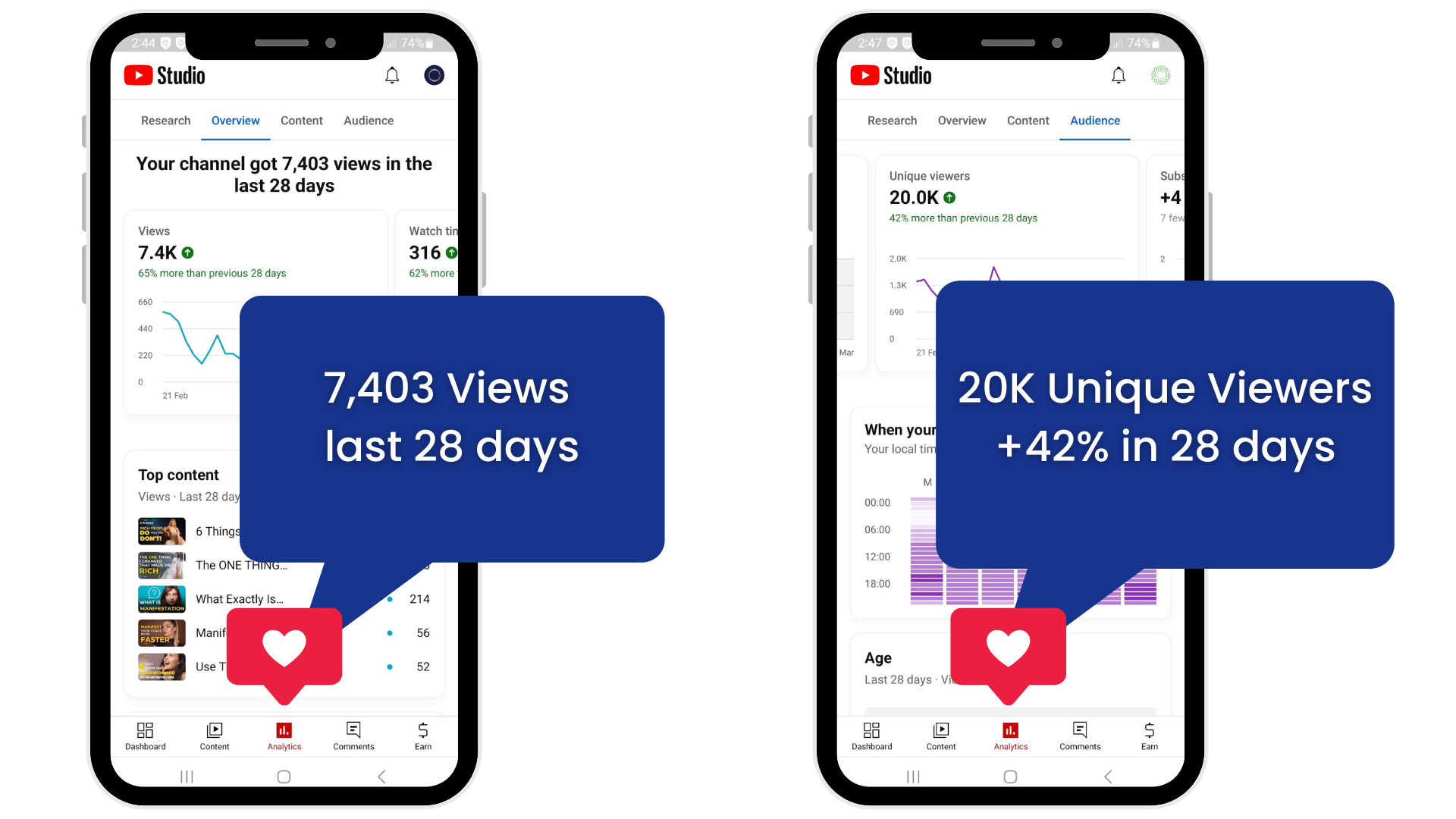 WHO IS YOUTUBE OPTIMISATION FOR?
YouTube can work for brands in any sector: B2B. B2C. SaaS. Services. Ecommerce.

Starting with a solid YouTube strategy is key to engaging your target audience and getting discovered by more and more people like them. The trick for businesses is understanding what works, then delivering the right video content to build their authority, influence and real ROI.
Your market vertical and industry may vary.
But YouTube Optimisation works best if your business is serious about:
1. STRONG VIDEO MARKETING ROI
2. INCREASED ORGANIC YOUTUBE VISIBILITY (SEO)
3. A POWERFUL 1-2
PUNCH WITH
YOUTUBE ADS
GET YOUR FREE CHANNEL REVIEW

We couldn't be happier with how fast our channel is growing! Working with Copilot Crew to grow our subscriber base and increase our organic views, has shown huge results in such a short time.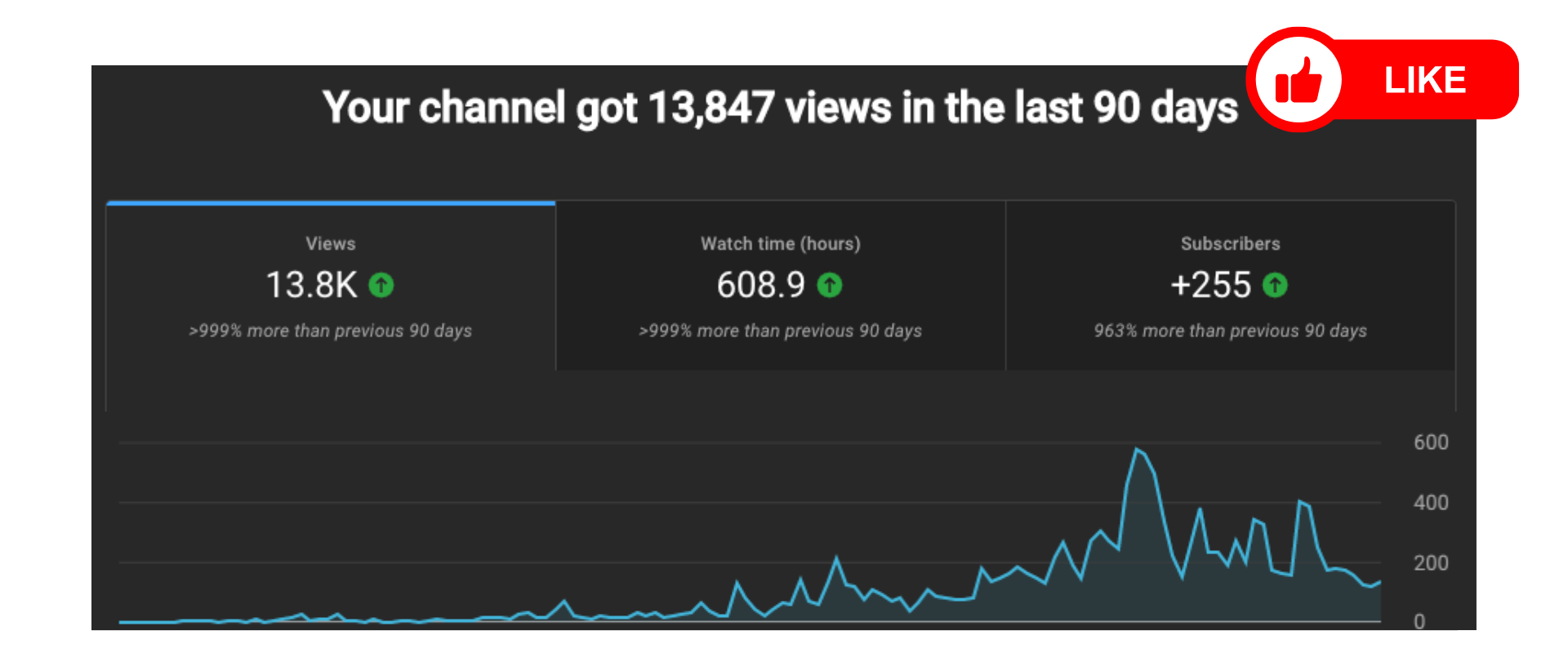 FLEXIBLE OPTIONS
TO FIT YOUR UNIQUE GOALS
We don't take a cookie-cutter approach to YouTube Optimisation – there are countless free tips and low-cost courses out there already.

If you want a bespoke framework for growth, built around your goals, buyer personas and audiences, unique value propositions, resources and capabilities, you're in the right place.
We offer a free, no-obligation YouTube Channel Review call (30 minutes) to discuss your current situation, objectives, quick wins and top growth opportunities.
From there, if we decide to work together, we provide YouTube Optimisation services models designed to accelerate your results.
YOUTUBE CHANNEL OPTIMISATION
The first stage of growing your influence, authority, reach and ROI starts with a fully optimised YouTube channel.


We'll increase the discoverability of your videos by applying best practice YouTube video SEO, improving organic visibility, click through rate and competitive positioning.
YOUTUBE ORGANIC GROWTH STRATEGY & ACTION PLAN
With your channel poised for growth, we work with you to build a detailed roadmap to ROI and impact.

Together we will clarify your purpose and vision, then provide clear, actionable steps to achieving results time and time again.
YOUTUBE CHANNEL ACCELERATOR GROWTH COACHING 
Hands-on coaching to ensure that your vision gets executed with excellence and real results
This includes supporting you with all your planning, production, promotion, and progress needs in your content and marketing.
While every client's scenario is different, depending on the scope and services needed, our clients typically invest between $2,000-$5,000 per month in YouTube optimisation initiatives.
YOUTUBE CHANNEL OPTIMISATION FAQS
Can you help us research and plan our video content?
Yes, we use up-to-the-moment research tools to find the best keyphrases for your videos to help you plan your content, understand what your audiences want to see and rank your videos faster.
Do you use bots to get more views?
Never! We work clearly within YouTube's Terms of Service and best practices to help you get more YouTube views by optimising your channel content, helping you plan and execute better videos and organically rank your videos and attract more watch time.
Why would I use paid ads if I'm trying to grow a channel organically?
Paid YouTube ads may be part of your overall sales and marketing funnel, but they can also help you grow your subscriber base with highly targeted ads to the right audience. If you're looking to grow your channel and increase engagement quickly, we can also boost your channel with a strategic paid ads growth campaign.
I don't want to be on camera, can I still grow our YouTube channel?
Yes, we've helped to grow channels that are "faceless" as well as helping to identify and train other people in your team to be the face of your business on YouTube. We provide training resources and comprehensive feedback to help you improve your on-camera talent as you continue to grow your channel.
Do you offer filming or editing services?
We have a fantastic team of editors and partners who can help you film and edit your videos. This is an additional service and we can help you work out the best solution to suit your budget.
What about YouTube Shorts, are they important?
YouTube Shorts not only have a big impact on growing your channel, they are one of the most valuable forms of short form content on the internet today. Why? Because YouTube Shorts are also a Google property and can be used to help you rank for key search terms in Google search results. This helps to improve your business discoverability and relevance in search on both YouTube and Google.
Do you only work with larger channels?
We work with channels of all sizes, both established and emerging. We can even help you position your business in the best possible way before you launch your YouTube channel and set you up for success.
READY FOR YOUR FREE YOUTUBE REVIEW?
Don't spend hours trying to figure out why your channel isn't delivering real ROI.
Don't put the power and impact of video marketing in the "too hard" basket.
And don't keep trying to go it alone, when you can get real expert guidance for free.